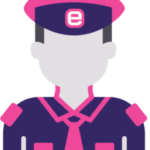 Who are we ?
We are Revisecatch Limited trading as eCourier company number 02584802. Our registered address is 185 Farringdon Road, London, EC1A 1AA.
For the purposes of the EU General Data Protection Regulation (GDPR) the data controller is Revisecatch Limited trading as eCourier.
What is the Privacy Policy for?
We are committed to protecting and respecting your privacy. Being transparent and providing accessible information to our customers and employees and how we will use your data is a key element of the DPA and the GDPR. The most common way to provide this information is in a Privacy Notice.
A major worry for most companies and employees is other companies selling, transferring or emailing to third parties any of their information for marketing purposes. Rest assured that at eCourier we do not do that.
Our motto is "Happiness Delivered" and we will provide you with lots of detailed information on why we collect, how we use your data and the limited conditions where we may disclose your data to others. However without adequate security of the data you would not be "Happy" so we will also tell you how we keep it secure.
Information we may collect from you
We may collect and process the following data about you:
a) Information that you provide to us, including:
(1) Information provided to us on the telephone or via employee application form or for our customers on our website including when  you open an account with us, place orders or log on as an account holder. This will include your company or trading name (if any), your name or a contact name, address, telephone numbers, fax numbers, email address, bank details including account number. These are all details which we would require in order to invoice you for work carried out. If you use our on line booking service we would store usernames and password(s) which you have set up in order that if required we could alter/delete users as per your instructions. Please do not divulge user logins and passwords to other users as they will be able to use the on line booking on your account and then "Happiness may not be delivered" !
(2) We would also collect data from you should you need to make a complaint or report a problem with our website or operational/accounts queries.
(3) If you contact us we may keep a record of that correspondence and if that contact is via telephone your call may be recorded. The reasons for keeping these records are in order to deal with queries and for subsequent historical requests relating to the original requests.
(4) Personal details you choose to give when corresponding with us by phone or email.
(5) Details of the transactions we carry out for you either via our website include details of proof of delivery.
Please let us know if any of this information changes so we can keep our records up to date.
b) Technical information, including the Internet protocol (IP) address used to connect your computer to the Internet, your login information, browser type and version, time zone setting, browser plug-in types and versions, operating system and platform.
c ) We may utilise the services of credit referencing and company financial data sites in order to ascertain whether we are able to offer a credit facility account.
Uses made of the information
We use information held about you in the following ways:
To carry out our obligations arising from any contracts entered into between you and us.
To allow you to login or control the interactive features of our online services, when you choose to do so.
Where it is necessary for our legitimate interests, i.e. to operate our company and provide (including improving and personalising) the products and services we offer.
To notify you about changes to our service or service effecting incidents.
Where we need to comply with a legal or regulatory obligation.
Disclosure of your information
We disclose personal data to third parties involved in the provision of the service such as hosting companies,tracking and positioner providers,logistics providers and IT providers
Additionally, we will disclose your personal information to the relevant third party:
a) in the event that we sell or buy any business or assets, in which case we will disclose your personal data to the prospective seller or buyer of such business or assets;
b) if we are acquired by a third party, in which case personal data held by us about our customers will be one of the transferred assets; and
c) if we are under a duty to disclose or share your personal data in order to comply with any legal obligation, or in order to enforce or apply our terms of use and other agreements; or to protect the rights, property, or safety of our customers, our regulator, or others. This includes exchanging information with other companies and organisations for the purposes of fraud protection and prevention of money laundering and credit risk reduction.
How secure is your data with us and where do we store your personal data.
We are committed to ensuring that your information is secure. In order to prevent unauthorised access or disclosure, we have put in place suitable physical, electronic and managerial procedures to safeguard and secure the information we collect online. In addition, we limit access to your personal data to those employees, agents, contractors and other third parties who have a business need to know. They will only process your personal data on our instructions and they are subject to a duty of confidentiality.
For customers the data that we collect from you may be transferred to, and stored at, a destination outside the European Economic Area ("EEA"). It may also be processed by staff operating outside the EEA who work for one of our suppliers. Such staff may be engaged in, among other things, the fulfilment of your order, the processing of your payment details and the provision of support services. An example of this would be where you use our UK Overnight or International services which we contract to a number of parties depending on which country your packages are being sent to.
For employees the data you provide for employment purposes is required to calculate your pay, holiday requests and sick pay.  All information you provide whether you are an employee or a customer is stored on our secure servers. Any payment transactions will be encrypted. Where we have given you (or where you have chosen) a password which enables you to access certain parts of our site, (including payslips for personnel) you are responsible for keeping this password confidential. We ask you not to share the password with anyone.
Unfortunately, the transmission of information via the internet is not completely secure. Although we will do our best to protect your personal data, we cannot guarantee the security of your data transmitted to our site, any transmission is at your own risk. Once we have received your information, we will use strict procedures and security features to try to prevent unauthorised access.
Payment information
Customer credit/debit card payments and other payments you make either on website or via our offices will be processed via our third party payment providers and the payment data you submit will be securely stored and encrypted by our payment service providers using up to date GDPR compliant industry standards. Please note that eCourier do not ourselves directly process or store the debit/credit Card data that you submit.
How long do we keep your data?
We will not keep your data for longer than necessary for the purposes set out in this Policy. Different retention periods apply for different types of data, however the longest we will normally hold any personal data is 6 years. To determine the appropriate retention period for personal data, we consider the amount, nature and sensitivity of the personal data, the potential risk from unauthorised use or disclosure of your personal data, the purposes for which we process your personal data and whether we can achieve those purposes through other means and the applicable legal requirements.
Access to your personal information
Under GDPR, you are entitled to request, view, amend, or delete the personal information that we hold. Email your requests to our data protection officer Mr Guy Howell at guy.howell@ecourier.co.uk.
Your rights in respect of your personal data
Where processing of your personal data is based on consent, you can withdraw that consent at any time.
You have the following rights. You can exercise these rights at any time by contacting us at privacy@ecourier.co.uk.
You have the right:
a) to ask us not to process your personal data for marketing purposes. We will inform you (before collecting your data) if we intend to use your data for such purposes or if we intend to disclose your information to any third party for such purposes;
b) to ask us not to process your personal data where it is processed on the basis of legitimate interests provided that there are no compelling reasons for that processing;
c) to ask us not to process your personal data for scientific or historical research purposes, where relevant, unless the processing is necessary in the public interest;
d) to request from us access to personal information held about you. To submit your subject access request, you can contact us at privacy@ecourier.co.uk
e) to ask for the information we hold about you to be rectified if it is inaccurate or incomplete;
f) to ask for data to be erased provided that the personal data is no longer necessary for the purposes for which it was collected, you withdraw consent (if the legal basis for processing is consent), you exercise your right to object, set out below, and there are no overriding legitimate ground for processing, the data is unlawfully processed, the data needs to be erased to comply with a legal obligation or the data is children's data and was collected in relation to an offer of information society services;
g) to ask for the processing of that information to be restricted if the accuracy of that data is contested, the processing is unlawful, the personal data is no longer necessary for the purposes for which it was collected or you exercise your right to object (pending verification of whether there are legitimate grounds for processing); and
h) to ask for data portability if the processing is carried out by automated means and the legal basis for processing is consent or contract.
To exercise any of these rights or should you have any issues, concerns or problems in relation to your data, or wish to notify us of data which is inaccurate, please let us know by contacting us at privacy@ecourier.co.uk 
Changes to this Privacy Notice
We may change this policy from time to time and without notice, so for customers please make sure you check back frequently to see any updates or changes to our privacy policy. If we change our Policy we will publish those changes on this page. For our employees any change in the policy will be communicated via notices sent from the payroll department. The last time our Policy was reviewed was April 2018.
Contacts
If you have any questions about our collection, use or disclosure of your personal information or comments and requests please drop us an email at privacy@ecourier.co.uk 
Cookies
Like most websites eCourier uses cookies to collect information. Cookies are small data files which are placed on your computer or other devices (such as smart phones or tablets) as you browse our website. Cookies are essential for the effective operation of our website and to help with our online booking portal. Our website uses cookies to distinguish you from other users. This is to provide you with a good customer experience when you browse our site and allows us to improve its features. By continuing to browse our site you are agreeing to our use of cookies. We do not use cookies to collect or record information on your name, address or other contact details.
You can disable cookies within your website browser settings and depending on which cookies you disable you may find that our online booking portal is affected. Best to obtain advice from your IT provider as hopefully you would not want to reduce the effectiveness of our online portal.
List of Cookies we use on this site
sessionid – this is a required cookie which tracks the customer's continued interaction with the site.Without this cookie the site would not work properly.
dates_undefined – this cookie is used when making a booking and therefore is a required item.
IP Addresses
We may collect information about your computer, including where available your IP address, operating system and browser type, for system administration. This is statistical data about our users browsing actions and does not identify any individual.
Links to other websites
Our website may provide links to other websites. However, once you have used these links to leave our site, you should note that we do not have any control over that other website or its contents. Therefore, we cannot be responsible for the protection and privacy of any information which you provide whilst visiting such sites and such sites are not governed by this privacy statement. You should exercise caution and look at the privacy statement applicable to the website in question.
Thank you for reading all the way through to the end. Hopefully you can remember the reason why you originally visited the website !